published less than 1 hour ago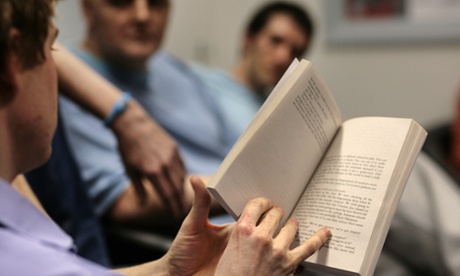 The end of the ban on sending books to prisoners in the UK reminds me just how vital they were to my survival inside, and to the life I have lived sinceThe official lifting on the ban on sending books to prisoners, which comes into effect on Tuesday, finally brings to an end one of the most irrational and baffling Ministry of Justice policy decisions in recent times. When I consider my life before prison and my life after prison, ...
more
published about 1 hour ago
'Please read this book: it is brilliant!'I loved Girl, Missing and reread it several times, because when you pick up this book, you will never put it down! Some like me, will stay up till midnight reading it, others will want to stay on each cliff-hanger and wait until the next night.This book is about a teenager, Lauren, who knew she was adopted but never knew her real family. No-one had kept any secrets from her, but one day, she ...
more
published about 3 hours ago
Posthumous publication of Nobel prize-winning writer's last book attacks rising vitriol towards refugees in Germany For much of his lifetime, he was the personification of Germany's moral conscience, with literary interventions on anything from postwar guilt to the Israel-Palestine debate. And it appears that even his death in April this year hasn't dimmed Günter Grass's determination to provoke debate. In his last ever book, published in Germany at the end of last week, the Nobel prize-winning novelist and poet issues ...
more
published about 4 hours ago
When Julie Mayhew was researching her book The Big Lie, which explores what would happen if the Nazis won, she discovered the stories of the women and girls including Sophie Scholl, who dared speak up against the atrocities Am I a rebel? Of course not. I'm the hard-working, straight-A student who always came home at the time agreed with her parents. I never wilfully provoked a teacher, never skipped a lesson, was never held back for a detention. If my ...
more
published about 4 hours ago
'It's difficult to put my opinions down in words because, quite frankly, I had mixed feelings throughout the novel'The Trials are over. WICKED is planning to restore the survivors' memories and complete the final cure for the Flare.But Thomas has already remembered more than they think. And he knows WICKED can't be trusted… Continue reading...